How to Sponsor a spouse with criminal record
Family reunification is o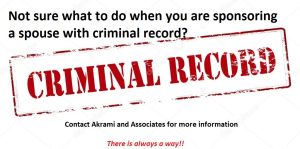 ne of the three pillars of CIC's immigration program. Only certain types of relatives are eligible for Canadian family sponsorship which includes spouse, dependent children and parents or grandparents. The family member being sponsored must fulfill the basic eligibility requirements. One who is a security risk, guilty of human right violations, does not have a clean criminal record, or has significant health problems might not be eligible to be sponsored by a family member who is a Canadian citizen or permanent resident.
Talking about sponsoring a spouse or partner with a criminal record (from outside Canada), application to sponsor him or her to Canada may be refused on grounds of criminal inadmissibility. Before applying for permanent residence, there is a need to overcome spouse's criminality depending on the nature of the crime and what sentence they received.
Who is not eligible to sponsor a spouse
Not everyone can sponsor a spouse. You may not be able to sponsor a spouse if you:
are in prison
have not paid your alimony or child support payments
have declared bankruptcy and haven't been released from it yet
got social assistance for reasons other than being disabled
didn't pay back an immigration loan, made late payments or missed payment
sponsored another spouse in the past and didn't meet the terms of the sponsorship agreement were convicted of a violent crime, any offence against a relative or any sexual offence
Please note, other things not on this list may stop you from being able to sponsor a relative.
Resolving Criminal Inadmissibility
It is usually necessary for the spouse to have their record cleared, obtain an Approval of Criminal Rehabilitation, or be deemed rehabilitated, before their application will be approved. To apply for these documents, they will have to provide copies of police documents, court transcripts, and other documents that relate to the conviction. Immigration, Refugees and Citizenship Canada (IRCC) will need full details about the criminal charges to determine whether they are eligible to become a permanent resident
Convictions and offences outside Canada
If your spouse was convicted of or committed a criminal offence outside Canada, they may overcome this criminal inadmissibility
by applying for rehabilitation, or
they may be deemed to have been rehabilitated if at least ten years have passed since they completed the sentence imposed upon them, or since they committed the offence, if the offence is one that would, in Canada, be an indictable offence punishable by a maximum term of imprisonment of less than ten years.
If the offence is one that would, in Canada, be prosecuted summarily, and if they were convicted for two (2) or more such offences, the period for rehabilitation is at least five (5) years after the sentences imposed were served or are to be served.
Convictions or offences outside of Canada require an approval of Criminal rehabilitation or a pardon also known as record of suspension to overcome your spouse's inadmissibility if it occurred inside of Canada.
Rehabilitation removes the grounds of criminal inadmissibility. Rehabilitation means that you lead a stable lifestyle and that you are unlikely to be involved in any further criminal activity.
You are eligible to apply for rehabilitation if you have:
committed an act outside of Canada and five (5) years have elapsed since the act;
been convicted outside of Canada and five (5) years have passed since the end of the sentence imposed.
Coming to or remaining in Canada without approval of rehabilitation
If you need to come to Canada but cannot apply for rehabilitation because five (5) years have not passed since the end of the sentence imposed or you are not eligible to apply for a record suspension (formerly a pardon) for convictions in Canada, you may request special permission to enter or remain in Canada.
An application for rehabilitation requires completing relevant application forms and providing various supporting documents. The application may take 8-12 months to process once filed. We, at Akrami & Associates, will advise you the complete procedure for doing that and help you in completing and submitting your application for Criminal Rehabilitation to IRCC.
What happens next
Upon receipt of your application an officer will review it along with any supporting documents. If you are eligible to apply, the officer will make a positive or negative recommendation and forward the application to the authority who can approve or refuse applications for rehabilitation. For less serious offences, the authority is usually the manager of the local office. For more serious offences, the Minister of Immigration, Refugees and Citizenship will make the decision.
The following are some of the factors that will be taken into consideration when your application is reviewed:
the number of offences and the circumstances and seriousness of each offence;
your behaviour since committing the offence(s);
your explanation of the offences and why you are not likely to re-offend;
any support you receive from your community;
why you think you are rehabilitated and
your present circumstances.
Contact Akrami and Associates
Remember – It can be frustrating when the smallest of mistakes leaves a huge mark on your record. This can then lead into future complications and immigration is one of them. Don't let your past mistakes hold you back. With us, you have all the options to rid yourself of this criminal record! Akrami and Associates is always happy to help you get back on track as we put our expertise to work for you!
There is always  a way!!