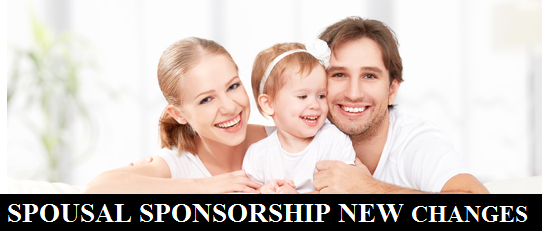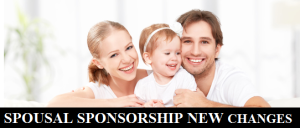 Spousal Sponsorship New Changes effective December 15, 2016
If you are a citizen or permanent resident of Canada and are 18 years of age or older, you may be eligible to sponsor your spouse under the spousal sponsorship category. The spousal sponsorship is a branch of the Family Class immigration category. Under the family class, Canadian citizens or permanent residents may sponsor their dependent children, parents and grandparents and spouse/common-law/conjugal partners to Canada. In this application, the Canadian or permanent resident of Canada is the sponsor and the person who wants to migrate to Canada is the applicant. You do not have to be legally married to qualify under this category; you can qualify if you prove your relationship to the Canadian government under one of these categories as well:
Canadian government strongly believes in family reunification and so such applications are given the highest priorities.
The Canadian government introduced new spousal sponsorship packages effective December 15, 2016. There were many reasons to do so and some of them are:
Combat backlogs
Fairness and equality for all Canadians
Tackle conditional permanent residency
The Previous Spousal Package
Firstly, you had to determine whether you qualified for an inland sponsorship or overseas sponsorship. This was determined based on the residence of your spouse. For example, if you spouse or the applicant lived in Canada with you (given that they came on a visitor visa or study permit), you could initiate an inland process. If the applicant lived out of Canada, you had to initiate an overseas spousal sponsorship.
Overseas Spousal Sponsorships
As mentioned, the applicant should have been outside of Canada for an overseas sponsorship application. Overseas sponsorship application gives the applicant some freedom to come to Canada on a visitor visa; however the chances of being approved for a visitor visa are slim. This is the applicant has to provide ample documentation to prove their intent to Canada is temporary should the application get refused. Many clients fail to submit strong ties to their home country, therefore highly recommended to get the assistance of an immigration expert such as Akrami & Associates prior to attempting the application on your own. Also, the visa office that processes the overseas sponsorship applications differs from inland applications.
Inland Spousal Sponsorships
Inland sponsorship application is filed when your sponsored spouse lives in Canada with you. The applicant in this case would have temporary status in Canada. In this case, the applicant's freedom is limited as he/she cannot travel outside of Canada for the duration of the process of application for permanent residency. However, the benefit of inland sponsorship application is that the applicant may be eligible for an open work permit.
Specifics of the Previous Spousal Packages
Some of the requirements were:
The couple cannot be too closely related by blood
Sponsor and applicant must not have any criminal inadmissibilities
Sponsor had to be 18 years of age or older
Applicant could be 16 years of age or older
The sponsor cannot have been sponsored to Canada as a spouse within the last 5 years
Relationship must have been qualified under spouses, common-law or conjugal partners
The permanent residency of the applicant was conditional
Applications were submitted differently given the applicants resident
Processing times ranged from two years to three years
New Spousal Sponsorship Package
On December 7th, 2016 the Canadian government announced some changes to the spousal sponsorship application. This was done to make it easier for Canadian citizens and permanent residents to reunite with their families and also to combat a back log of applications. It is important to note that the government claims a change in processing times from the beginning of 2016. Processing times have been reduced by 15 percent for inland sponsorships and about 10 percent for overseas sponsorships. That being said the actual changes took effect on December 15, 2016.
The Main Changes to the New Spousal Sponsorship Package:
One package for inland and overseas applicants
Faster processing times and reduced wait times for all applicants
Certain information will not be provided up front
The application kit redesigned
IRCC plans to admit 64,000 spouses and dependents in 2017 (2016 was 47,000)
Let's look at a Few Changes made to the Sponsorship Application
Increased funding
Faster processing times
Increase in the cap for spouses and dependents to enter Canada annually
Improved application process
IRCC had drafted a new application kit and a basic guide to make it easier for all to understand. You will no longer have to pick inland or overseas as they are both combined now. The previous application had many forms; the new application has combined some of the forms and reduced the number of forms to fill out. Remember, if an application is not complete, it will be returned to the applicant. Incomplete applications do not go for processing at all. The government allows applicants to check their application process periodically online. This will give you certainty that your application is being assessed. This also helps IRCC ask for additional information in regards to your application, which is always time limited. If requested are not responded to within a reasonable time limit, your application could face delays, refusal or return.
Another change the government sought to make with this new spousal sponsorship application was reduced processing and wait times for applicants. On average the processing time for an inland application was 26 months. Give that over 70, 000 applications were submitted in 2015 while Canada only had a cap of about 48,000 created a backlog for such applications. Therefore the Canadian government has decided to process spousal application within 12 months for new and existing applicants and changed the quota by allowing 12,000 more spouses, partners and dependents to be admitted to Canada in 2017.
Through Budget 2016 the Canadian government has invested $25 million into Immigration, Refugees and Citizenship Canada to reduce backlog. This increased funding is expected to have a significant outcome for spousal sponsorships.
It important to remember that the 12 month processing times do not apply to everyone as the government has noted this as well. About 80 percent of applications are expected to be processed within 12 months and the other 20 percent will most likely take longer to assess. How long an application takes is based on many factors such as how complete your application is, if you have provided all required forms and documents, is there any misrepresentation or mistake in your application and how fast can you cooperate with requests from IRCC. Permanent residency cases have high importance for IRCC and therefor require a better level of understanding Canadian immigration laws. If you want to reunite with your respective spouses or partners to Canada in a timely manner then you must submit a very strong application. Spousal sponsorships can be highly confusing and we recommend that you consult an immigration professional before attempting to apply on your own. There are many things that should be assessed before you apply such as a work permit or your eligibility to sponsor a member of the family class.
Marriage of Convenience
Remember marriage fraud is a serious crime and there are mechanisms set in place to detect it. If fraud is detected your application will be refused. If fraud is detected after permanent residency has been required, your PR will be revoked and this may even result in the deportation of the sponsor.
Please note Canada recognizes same-sex marriage, and same-sex partners may be eligible to apply under any of the above three categories, provided they meet all eligibility requirements.
Looking to apply for the Spousal Sponsorship? Contact Akrami & Associates
Have you submitted your spousal application and not sure how the December 15, 2016 changes will affect your application? Or are you looking to see how the spousal sponsorship changes will benefit you then contact Akrami & Associates today. Akrami & Associates has submitted many successful immigration application and we can help you too. Contact us today at 416-477-2545 for further details.
With Akrami & Associates there is always a way!!